Lessons Learned From 1 Year Working With HIC – With Tavia Morse
Today, Hanna Hermanson is chatting with Tavia Morse, CEO and founder of Sweet Life Coaching. She's shown to be a relentless woman who went from being sick to joining us at HIC and building a business that has helped over 2 thousand people! She's revealing the way she went through that difficult journey for becoming such a great health coach. Find out as she tells Hanna what she had to figure out before having the great impact she now has on our team and her own clients.
You will learn:
Her journey from getting sick to becoming a successful health coach.
What courses and certifications can't teach you and where to find that knowledge.
How she got to know Zander and started working with HIC.
The top shifts she had to make for succeeding as an entrepreneur.
A few important questions all coaches need to ask themselves.
Her greatest piece of advice for all new coaches who are just taking up.
How important it is to hold yourself accountable.
---
And whenever you are ready to get our help building or scaling your coaching business, here are some resources you can use below:
Check out our FREE 7-step video training to build a profitable coaching business >HERE<
Join thousands of coaches in our FREE Facebook community >HERE<
If you are interested in our programs to help you build a profitable coaching business you can review them >HERE< and set up a free 15 clarity call with one of our coaches to help see if we might be able to help.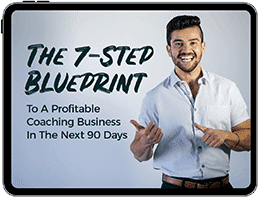 The 7-Step Blueprint to
a Profitable Coaching
Business in the Next
90 Days