3 Steps To Get More Clients
Today, I'm talking about the transformational results you can get for your clients by taking these 3 steps. Everything starts with the information. You need to make sure your clients are knowledgeable on the topic, let them know their own blindspots and help them define a concise offer that leads their clients to success, so tune in as I explain the 3 steps that will make you get more clients than you've ever imagined.
You will learn:
The importance of having a crystal clear and concise offer.
Why getting certifications isn't the way to improve your program.
The only way you'll be able to get transformational results for your clients.
Why information alone is not good enough to get results.
The most important thing your audience needs: your coaching.
---
And whenever you are ready to get our help building or scaling your coaching business, here are some resources you can use below:
Check out our FREE 7-step video training to build a profitable coaching business >HERE<
Join thousands of coaches in our FREE Facebook community >HERE<
If you are interested in our programs to help you build a profitable coaching business you can review them >HERE< and set up a free 15 clarity call with one of our coaches to help see if we might be able to help.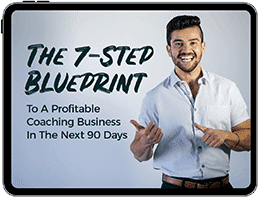 The 7-Step Blueprint to
a Profitable Coaching
Business in the Next
90 Days