I Quit My 9-To-5 And Now Make $25K/mo As A Coach
Every single coach out there has started in a 9-to-5, dreaming of becoming a great entrepreneur who impacts on thousands of lives. It takes a lot to get there, though, and today I'm chatting with the amazing Zach White, CEO and founder of Oasis of Courage, who went through that really tough journey long ago, working at a 9-to-5 as an engineer, and now makes over $25K a month. Find out as he reveals what he did and how he moved from being trapped in the darkest time of his life, even almost getting back to his 9-to-5 to scaling up his business.
You will learn:
How he moved from quitting his 9-to-5 job to making over $25K a month.
The process of making a decision that changed his life forever.
What encouraged him to move forward after hitting rock bottom.
What it really takes to generate more than a hundred calls a month.
3 necessary characteristics to be a successful coach.
The single thing that helped him scale up his business.
---
And whenever you are ready to get our help building or scaling your coaching business, here are some resources you can use below:
Check out our FREE 7-step video training to build a profitable coaching business >HERE<
Join thousands of coaches in our FREE Facebook community >HERE<
If you are interested in our programs to help you build a profitable coaching business you can review them >HERE< and set up a free 15 clarity call with one of our coaches to help see if we might be able to help.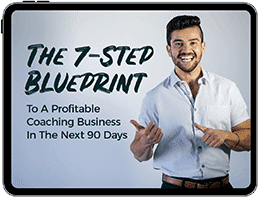 The 7-Step Blueprint to
a Profitable Coaching
Business in the Next
90 Days