We Dream Big But Settle For Mediocre
We all have dreamed big in our lives, we desire to make big changes in the world and impact thousands of lives around us, but are we doing enough to make it happen? Sometimes, we've got these limiting beliefs that force us to settle for mediocre and set lower standards than we could actually achieve, so tune in as I tell you how to stop limiting yourself and start setting challenging goals.
You will learn:
Why dreaming big is not good enough.
Never settling for mediocre.
Setting high standards and making mediocre unacceptable.
How to stop setting low standards.
---
And whenever you are ready to get our help building or scaling your coaching business, here are some resources you can use below:
Check out our FREE 7-step video training to build a profitable coaching business >HERE<
Join thousands of coaches in our FREE Facebook community >HERE<
If you are interested in our programs to help you build a profitable coaching business you can review them >HERE< and set up a free 15 clarity call with one of our coaches to help see if we might be able to help.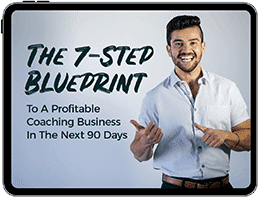 The 7-Step Blueprint to
a Profitable Coaching
Business in the Next
90 Days