3 Things That Are Hurting You As An Entrepreneur
Throughout school and even college, we were told lots of important things that are worth, but also several lies that might actually prevent entrepreneurs from getting their businesses off the ground. That's why I've figured out the 3 deadly lies you were told that can actually keep you from succeeding in growing your project, and I'm so glad to share them with you, so find out as I explain these 3 lessons and stop believing everything you were told in school.
You will learn:
The 3 lies you learned in school that prevent you from succeeding.
Knowledge is not power, but it might actually be your mortal enemy.
In life, you don't have one shot only.
Why other people's opinions don't matter at all.
---
And whenever you are ready to get our help building or scaling your coaching business, here are some resources you can use below:
Check out our FREE 7-step video training to build a profitable coaching business >HERE<
Join thousands of coaches in our FREE Facebook community >HERE<
If you are interested in our programs to help you build a profitable coaching business you can review them >HERE< and set up a free 15 clarity call with one of our coaches to help see if we might be able to help.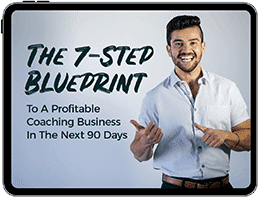 The 7-Step Blueprint to
a Profitable Coaching
Business in the Next
90 Days