Behind The Scenes Running A $300K/mo Coaching Business
From the very moment I quit my corporate job, I've been through a lot during my journey, and today I'm with my girlfriend, the amazing Maddy Fryer, spilling the beans on all the things I've learned so far, so find out as I explain what I did when I just started off to scale up to the 7 figures, as well as the mistakes I made and what you can learn from them. Join this conversation and figure out how you can start and run an online coaching business.
You will learn:
What you need to do when you get to the 7 figures.
The thing you must accept when you're first starting off.
Why the business half is more important than the coaching half.
Making the most of things when they're not good enough.
What my biggest mistake has been.
The best piece of advice I would give to anyone, based on my own experience.
---
And whenever you are ready to get our help building or scaling your coaching business, here are some resources you can use below:
Check out our FREE 7-step video training to build a profitable coaching business >HERE<
Join thousands of coaches in our FREE Facebook community >HERE<
If you are interested in our programs to help you build a profitable coaching business you can review them >HERE< and set up a free 15 clarity call with one of our coaches to help see if we might be able to help.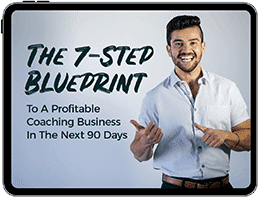 The 7-Step Blueprint to
a Profitable Coaching
Business in the Next
90 Days