TikTok vs. IG Reels… Where To Focus And Grow Fast
TikTok has become THE THING in the last couple of years, and everyone is talking about it every day, but not all coaches know how to make the most of this new platform for making more sales. Some of them even say TikTok is for kids only, and they couldn't be more wrong. This is why I'm chatting with Nick Colomatin, our amazing TikTok and IG Reels Guru at HIC, about its rapid growth and how it has sneaked out into this social media era and why it's so different from Instagram, so find out as he explains how you can boost your business with it!
You will learn:
Why TikTok has grown so rapidly in the last couple of years.
What people misunderstand and underrate about TikTok.
What makes content valuable on TikTok.
The difference between TikTok and Instagram.
What kind of content people look for on each social media platform.
Which platform brings more value to your audience? TikTok or IG Reels?
---
And whenever you are ready to get our help building or scaling your coaching business, here are some resources you can use below:
Check out our FREE 7-step video training to build a profitable coaching business >HERE<
Join thousands of coaches in our FREE Facebook community >HERE<
If you are interested in our programs to help you build a profitable coaching business you can review them >HERE< and set up a free 15 clarity call with one of our coaches to help see if we might be able to help.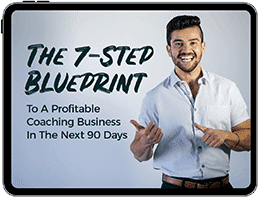 The 7-Step Blueprint to
a Profitable Coaching
Business in the Next
90 Days