How To Grow Your Social Media
We all know that social media is one of the most important tools when we're thinking about boosting our business and scaling it to the next level. Even though, coaches still struggle with this fundamental question: how can we turn our profile into a client-driving machine? That's why I'm chatting about the 5 ways you'll be able to get lots of leads willing to become high-paying clients, so find out as I explain these important tips and make it happen today!
You will learn:
The 5 ways to grow your social media and scale your business.
What's working and what to do to make it happen today.
How to put out the right content in the right place for the right audience.
Using Facebook to reach new people who enroll your program.
The best free strategy to get new followers.
The mistake you must NEVER make for growing your business on social media.
---
And whenever you are ready to get our help building or scaling your coaching business, here are some resources you can use below:
Check out our FREE 7-step video training to build a profitable coaching business >HERE<
Join thousands of coaches in our FREE Facebook community >HERE<
If you are interested in our programs to help you build a profitable coaching business you can review them >HERE< and set up a free 15 clarity call with one of our coaches to help see if we might be able to help.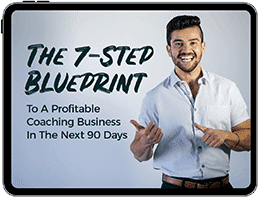 The 7-Step Blueprint to
a Profitable Coaching
Business in the Next
90 Days