Producing Content That Gets You $PAID$
There are lots of coaches out there who are so proud of themselves just because they get a ton of likes and shares on their social media, but there's a question none of them can answer: how many sales have they made? Everyone has become so obsessed with engagement that they sometimes forget the whole point of putting out content in the first place: SELLING. That's why today, I'm talking with Hanna Hermanson, an awesome woman who will teach you the things to take notice of when posting on social media to get the best results.
You will learn:
What is the biggest mistake coaches make when producing content for their audience.
What kind of content actually drives money to your business.
The goal you must focus on when posting content on social media.
How not to talk to your clients.
Why engagement doesn't necessarily bring clients.
What to do when your engagement is going down, but your sales increase.
Who you should trust to give you feedback.
---
And whenever you are ready to get our help building or scaling your coaching business, here are some resources you can use below:
Check out our FREE 7-step video training to build a profitable coaching business >HERE<
Join thousands of coaches in our FREE Facebook community >HERE<
If you are interested in our programs to help you build a profitable coaching business you can review them >HERE< and set up a free 15 clarity call with one of our coaches to help see if we might be able to help.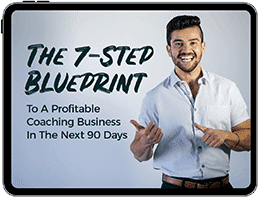 The 7-Step Blueprint to
a Profitable Coaching
Business in the Next
90 Days