The Building Blocks Of Your Personal Brand And How To Scale It – With Erik Salzenstein
How important is it to have a powerful story people can relate to? Today, Hanna Hermanson and Erik Salzenstein, a successful coach who is the living proof that rewriting yourself is possible, are spilling the beans on his journey from his darkest and lowest time to the high point he is at right now. He's explaining what he learned from that experience and how he's been able to connect with lots of people by sharing his own story, as well as how to build a people-inspiring story that sends a powerful message.
You will learn:
What he learned from his time in prison to transform his entire life.
The 4-step method he developed.
How he moved from prison to purpose.
What kind of stories people can relate to you through.
Attaching your low points to a message that connects with people.
---
And whenever you are ready to get our help building or scaling your coaching business, here are some resources you can use below:
Check out our FREE 7-step video training to build a profitable coaching business >HERE<
Join thousands of coaches in our FREE Facebook community >HERE<
If you are interested in our programs to help you build a profitable coaching business you can review them >HERE< and set up a free 15 clarity call with one of our coaches to help see if we might be able to help.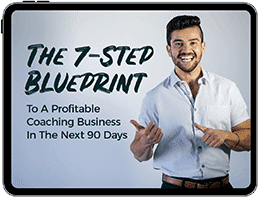 The 7-Step Blueprint to
a Profitable Coaching
Business in the Next
90 Days