How to Release Imposter Syndrome and Step into Your Greatest Successes with Accelerator Joy Graysen! 
Today, Hanna Hermanson is talking with Joy Graysen, an amazing woman who helps singers and songwriters advance their careers. She's developed an incredible way to guarantee your greatest success and unlocking all of your true potential, so don't miss out on this episode and find out how the way you view your coaching business impacts your results, as well as the right mindset to grow your business off the ground!
You will learn:
How to step into your greatness and the best potential you have inside.
Focusing on your skill set to help other people.
Believing that you are the sun.
The way you should view your own coaching business.
The role emotions play to reach your infinite potential.
Figuring out the reason why you are here.
---
And whenever you are ready to get our help building or scaling your coaching business, here are some resources you can use below:
Check out our FREE 7-step video training to build a profitable coaching business >HERE<
Join thousands of coaches in our FREE Facebook community >HERE<
If you are interested in our programs to help you build a profitable coaching business you can review them >HERE< and set up a free 15 clarity call with one of our coaches to help see if we might be able to help.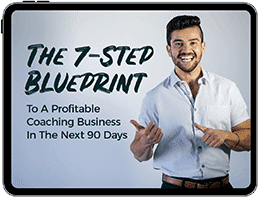 The 7-Step Blueprint to
a Profitable Coaching
Business in the Next
90 Days