3 Hacks To Make Content That Converts – With Hanna Hermanson
How to create content that makes people feel engaged and leads clients to your business? Today, I'm talking with Hanna Hermanson, our copywriting and marketing expert on High Impact Coaching. She's figured out the 3 fundamental mistakes that all coaches make when posting on social media, so pay attention to her and start applying these client-driving tips to have your content lead people to your business!
You will learn:
3 core mistakes all coaches make when putting out content.
What works and what doesn't for content creation.
What kind of content is so common and will never drive you anywhere.
Why coaches and professors aren't as different as you'd think.
The question you must ask yourself before explaining anything.
Clarifying your offer in a single step.
What the point of marketing is all about.
The importance of posting content consistently.
---
And whenever you are ready to get our help building or scaling your coaching business, here are some resources you can use below:
Check out our FREE 7-step video training to build a profitable coaching business >HERE<
Join thousands of coaches in our FREE Facebook community >HERE<
If you are interested in our programs to help you build a profitable coaching business you can review them >HERE< and set up a free 15 clarity call with one of our coaches to help see if we might be able to help.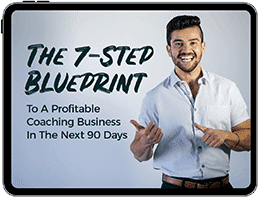 The 7-Step Blueprint to
a Profitable Coaching
Business in the Next
90 Days