Newly Discovered Sales Hacks With Gavin McHale
Your sales strategies are the key to get your business off the ground, and it's important to keep them updated! That's why today, Hanna Hermanson is talking with Gavin McHale, one of our successful clients, who has found a few tips that will definitely change your business and mindset forever.
You will learn:
How he made the decision to go to the next level.
The shifts he made to increase his sales.
What to do when things don't go the way you want.
The biggest breakthrough that changed his entire business mindset.
2 tips that will boost your sales strategy.
The question you must ask yourself about your sales strategy.
---
And whenever you are ready to get our help building or scaling your coaching business, here are some resources you can use below:
Check out our FREE 7-step video training to build a profitable coaching business >HERE<
Join thousands of coaches in our FREE Facebook community >HERE<
If you are interested in our programs to help you build a profitable coaching business you can review them >HERE< and set up a free 15 clarity call with one of our coaches to help see if we might be able to help.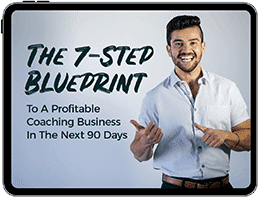 The 7-Step Blueprint to
a Profitable Coaching
Business in the Next
90 Days