Has your business been running for a while without getting the clients that you really want? Today, I'm talking about the 2 things that you need to do before clients start getting to your business, and how your offer can reach out to those people who would take your service. Pay attention to this couple of tips and apply these strategies to make people love and trust you. From now on, leave that big deep ocean and focus on your pond, as your network will be your best ally!
You will learn:
2 things you need to do before you start getting clients.
The main reason you're not getting the clients you really want.
Communicating to just one person.
Telling a story that makes people trust you.
2 things you need to do after getting leads.
Applying the fishing pond strategy to build your ideal niche.
How to tap into your own warm market.
---
And whenever you are ready to get our help building or scaling your coaching business, here are some resources you can use below:
Check out our FREE 7-step video training to build a profitable coaching business >HERE<
Join thousands of coaches in our FREE Facebook community >HERE<
If you are interested in our programs to help you build a profitable coaching business you can review them >HERE< and set up a free 15 clarity call with one of our coaches to help see if we might be able to help.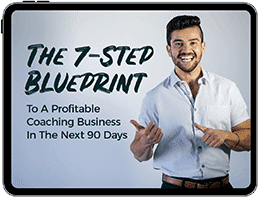 The 7-Step Blueprint to
a Profitable Coaching
Business in the Next
90 Days