Scaling Up Sales In An Uncertain Economy
This world crisis has impacted people and business at all levels and taken every one to an everlasting status of economic uncertainty, but it has also opened more opportunities than ever. Today, I'm talking with Cathal Walsh, our Chief Business Strategist at High Impact Coaching, who is revealing the truth about the effects of this health crisis, as well as why this is the best time to have a coaching business. Figure out what markets your clients are prioritizing and make the most of your niche!
You will learn:
Why this is the time when your clients need your help more than ever before.
How this crisis has made us change our communication and sales process.
What kind of sales strategies are no longer effective.
How quick everything has changed in the business four months ago.
The top markets people are prioritizing right now.
The top 3 things coaches are doing wrong right now.
---
And whenever you are ready to get our help building or scaling your coaching business, here are some resources you can use below:
Check out our FREE 7-step video training to build a profitable coaching business >HERE<
Join thousands of coaches in our FREE Facebook community >HERE<
If you are interested in our programs to help you build a profitable coaching business you can review them >HERE< and set up a free 15 clarity call with one of our coaches to help see if we might be able to help.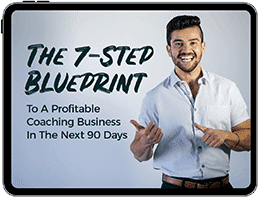 The 7-Step Blueprint to
a Profitable Coaching
Business in the Next
90 Days