If You Aren't Making 6 Figures, You're Being Selfish
Not making money actually makes you a selfish person! I'm sure you must have never thought of this, but it's true. Some time ago, Adam Toren, the founder of Entrepreneur, explained this to me and it blew my mind… now I understand why it's difficult for so many coaches to reach 6 figures, and today, I'm sharing this knowledge with you, as well as 4 tips to become successful in business.
You will learn:
The reason why coaches don't make 6 figures.
Why it might be difficult to work with entrepreneurs who are under 6 figures.
4 tips you must apply if you want to be successful.
Accepting haters as part of the business process.
Why undercharging is the fastest way to kill your business.
Why you are morally responsible of making more money.
What is the only thing you need to worry about in business.
---
And whenever you are ready to get our help building or scaling your coaching business, here are some resources you can use below:
Check out our FREE 7-step video training to build a profitable coaching business >HERE<
Join thousands of coaches in our FREE Facebook community >HERE<
If you are interested in our programs to help you build a profitable coaching business you can review them >HERE< and set up a free 15 clarity call with one of our coaches to help see if we might be able to help.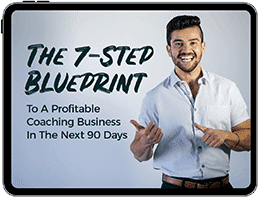 The 7-Step Blueprint to
a Profitable Coaching
Business in the Next
90 Days