Proof! That Every "Bad Hand" Is Your Best Weapon
We've all dealt bad hands in our lives! Some people get stuck and others overcome them, but whatever result you get from these experiences, they'll be beneficial for you. Today, I'm looking back on my own experience struggling to start my coaching business: the mistakes I made, what I learned from them and how I figured out the greatest law for growing.
You will learn:
Why I think that having hired an awful coach was the best thing that happened to me.
What I learned from my mistakes when I started off.
How you can turn bad hands into your greatest weapons.
How I overcame being told I was low IQ in 2nd grade.
What to do when you think your life has been ruined.
The absolute law you must accept in order to grow.
---
And whenever you are ready to get our help building or scaling your coaching business, here are some resources you can use below:
Check out our FREE 7-step video training to build a profitable coaching business >HERE<
Join thousands of coaches in our FREE Facebook community >HERE<
If you are interested in our programs to help you build a profitable coaching business you can review them >HERE< and set up a free 15 clarity call with one of our coaches to help see if we might be able to help.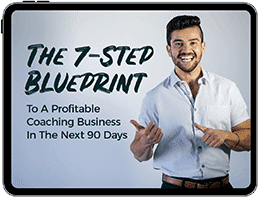 The 7-Step Blueprint to
a Profitable Coaching
Business in the Next
90 Days