In Tough Times Leaders Need To STEP UP
When do leaders show up? There's a reason why they show their true capabilities ONLY in times of hardship and recession, and that's exactly what I'm talking about today! We are used to making decisions from a place of scarcity and fear, but we can reprogram our brain and STEP UP, so figure out who you are in tough times!
You will learn:
When you can see the true character of a leader.
How much percentage of our decisions are made from a place of fear.
Why leaders are more creative in times of recession.
Which is the biggest requirement for becoming a coach.
Figuring out what king of person you are in tough times.
---
And whenever you are ready to get our help building or scaling your coaching business, here are some resources you can use below:
Check out our FREE 7-step video training to build a profitable coaching business >HERE<
Join thousands of coaches in our FREE Facebook community >HERE<
If you are interested in our programs to help you build a profitable coaching business you can review them >HERE< and set up a free 15 clarity call with one of our coaches to help see if we might be able to help.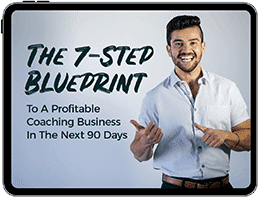 The 7-Step Blueprint to
a Profitable Coaching
Business in the Next
90 Days