The New Way To Market In 2020 – With Alex Starr
Today, I'm chatting with Alex Starr, who went from firefighter to becoming the senior business coach at High Impact Coaching, the man in charge of all our marketing! He's revealing the reason why HIC grows, whereas other businesses are declining. He explains the importance of being selfish and personalizing your messages, so pay attention!
You will learn:
Why intimacy is always over authority.
How he went from being a firefighter to becoming the senior business specialist at HIC.
The reason that you must be selfish before being significant.
The importance of personalizing your messages to your audience.
The most valuable book all coaches should read.
Connections are the key to succeed as a business owner: how to find them?
---
And whenever you are ready to get our help building or scaling your coaching business, here are some resources you can use below:
Check out our FREE 7-step video training to build a profitable coaching business >HERE<
Join thousands of coaches in our FREE Facebook community >HERE<
If you are interested in our programs to help you build a profitable coaching business you can review them >HERE< and set up a free 15 clarity call with one of our coaches to help see if we might be able to help.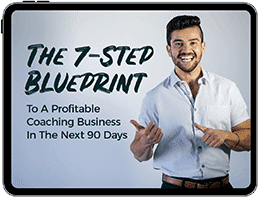 The 7-Step Blueprint to
a Profitable Coaching
Business in the Next
90 Days