My First $100K In 2 Months – With Brooke Ritchie
Which area is more important for coaches: Strategy or Mindset? There's only one answer, and today you'll figure it out! I'll be talking with Brooke Ritchie, a former virtual assistant who made her own way to mindset coaching. Pay attention, as she's about to reveal how much good coaches invest in themselves, and the biggest changes she had to make in order to develop a successful high-ticket coaching program!
You will learn:
Her journey from a Virtual Assistant to a successful coach.
How much she's invested in herself.
The moment that changed her life.
Strategy or Mindset: which one is more important?
The biggest switches for her to offer a high-ticket coaching program.
Why you must always question your beliefs.
---
And whenever you are ready to get our help building or scaling your coaching business, here are some resources you can use below:
Check out our FREE 7-step video training to build a profitable coaching business >HERE<
Join thousands of coaches in our FREE Facebook community >HERE<
If you are interested in our programs to help you build a profitable coaching business you can review them >HERE< and set up a free 15 clarity call with one of our coaches to help see if we might be able to help.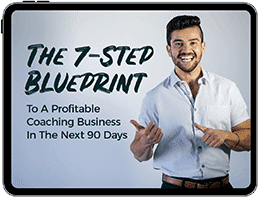 The 7-Step Blueprint to
a Profitable Coaching
Business in the Next
90 Days