Top 5 Books I Used To Launch My Business
There are so many business books out there that it's almost impossible for us to choose the best ones! That's why today I'm talking to you about the most important books that I read and how they changed my entire mindset, business and life. Pay attention as these books can get your business from scratch to 7 figures and beyond in less time than you would have ever thought!
You will learn:
The 5 books that took my business from non-existent to 7 figures in less than 12 months.
Why getting NOs is the fastest way to get a YES.
The importance of reprogramming your brain through habits.
The more you can focus on less things, the faster your business will grow.
Why knowledge is not power.
---
And whenever you are ready to get our help building or scaling your coaching business, here are some resources you can use below:
Check out our FREE 7-step video training to build a profitable coaching business >HERE<
Join thousands of coaches in our FREE Facebook community >HERE<
If you are interested in our programs to help you build a profitable coaching business you can review them >HERE< and set up a free 15 clarity call with one of our coaches to help see if we might be able to help.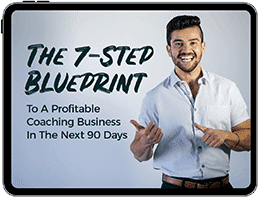 The 7-Step Blueprint to
a Profitable Coaching
Business in the Next
90 Days