4 Ways Coronavirus Has Changed The Coaching Industry
What were your thoughts on Coronavirus a couple of weeks ago? I'm pretty sure they weren't the same as they are today. This virus is changing the world's economy forever, and it's changed all industries, including coaching businesses. We're transitioning to a new age, full of new norms that require you to have a strong online presence, and I'll tell you how to position yourself as the absolute leader right after this crisis is gone in the upcoming months.
You will learn:
How Coronavirus has changed the world.
Why the coaching industry is so vulnerable.
The reason why this is actually the best time in history to be a coach.
Changes to make in the upcoming months.
Positioning yourself as your market leader right after this crisis.
How long it might take the world economy to settle again.
---
And whenever you are ready to get our help building or scaling your coaching business, here are some resources you can use below:
Check out our FREE 7-step video training to build a profitable coaching business >HERE<
Join thousands of coaches in our FREE Facebook community >HERE<
If you are interested in our programs to help you build a profitable coaching business you can review them >HERE< and set up a free 15 clarity call with one of our coaches to help see if we might be able to help.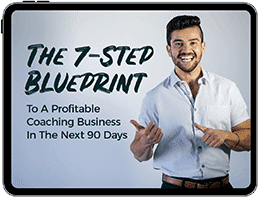 The 7-Step Blueprint to
a Profitable Coaching
Business in the Next
90 Days