Behind The Scenes On A Coaching Call – Three Skills
I've been asked so many times what an actual coaching call with me is like, and today you can see one by yourself! Listen in, because this lesson brings a ton of value. One of the worst mistakes that many coaches make when publishing content is to try to sell right from the DMs or even from their content. Stop doing that, because there's a simple (but not easy) process before selling, and today you'll master it through these 3 fundamental skills!
You will learn:
3 necessary skills to master when building a successful business.
The sole goal of your content.
Why you can sell from neither your content nor the DMs.
When you can start selling your program.
---
And whenever you are ready to get our help building or scaling your coaching business, here are some resources you can use below:
Check out our FREE 7-step video training to build a profitable coaching business >HERE<
Join thousands of coaches in our FREE Facebook community >HERE<
If you are interested in our programs to help you build a profitable coaching business you can review them >HERE< and set up a free 15 clarity call with one of our coaches to help see if we might be able to help.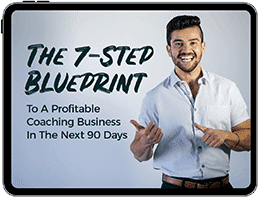 The 7-Step Blueprint to
a Profitable Coaching
Business in the Next
90 Days