The mindset of the 6th Fastest Man Alive – w: Charles Clark
What's your mindset like? Becoming an entrepreneur has never been easier. It's still difficult, though! But there's a way to go through this process, even if you have to deal with tragedy. Charles Clark, the sixth fastest man alive, is the living proof of it. That's why I'll be talking with him, so find out as he explains how to go through the struggle and succeed after being on the verge of giving up!
You will learn:
Why and how he went from being a world-class athlete to becoming an entrepreneur.
3 stages we all go through when dealing with tragedy.
The importance of being quiet and listening.
What you must always keep over income.
The process of going through a struggle.
Actions to take in order to always hit your new year's goals.
---
And whenever you are ready to get our help building or scaling your coaching business, here are some resources you can use below:
Check out our FREE 7-step video training to build a profitable coaching business >HERE<
Join thousands of coaches in our FREE Facebook community >HERE<
If you are interested in our programs to help you build a profitable coaching business you can review them >HERE< and set up a free 15 clarity call with one of our coaches to help see if we might be able to help.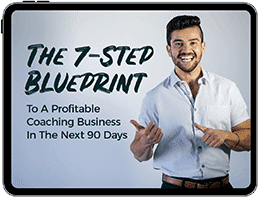 The 7-Step Blueprint to
a Profitable Coaching
Business in the Next
90 Days