We've always been told college is a fundamental stage that takes us to our highest point as individuals, but since a few years ago, we have all heard from successful entrepreneurs who never got in college, so is it really that relevant nowadays? Maddy and I talked about it and came across the answer, so pay attention and find out if it's a good idea for everyone!
You will learn:
Whom college is still relevant for.
Why college is not a place to figure out what you want.
Degrees aren't meant to make you more credible.
Having clarity on your path.
2 useful things you should learn in college.
3 areas you must master to succeed in life as an individual.
---
And whenever you are ready to get our help building or scaling your coaching business, here are some resources you can use below:
Check out our FREE 7-step video training to build a profitable coaching business >HERE<
Join thousands of coaches in our FREE Facebook community >HERE<
If you are interested in our programs to help you build a profitable coaching business you can review them >HERE< and set up a free 15 clarity call with one of our coaches to help see if we might be able to help.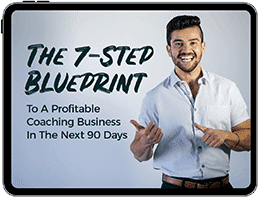 The 7-Step Blueprint to
a Profitable Coaching
Business in the Next
90 Days