7-Figure Businesses Come With 7-Figure Problems – With Phil Graham
From the very beginning of our journey, we coaches always set the same goal: building a 7-figure business. However, not everyone is willing to go through the deadly process that turns us into successful leaders, and that's why most coaches fail. Today, I'll talk with Phil Graham, who is revealing details about the importance of facing 7-figure problems and how to deal with them.
You will learn:
What inspired him to become a nutrition coach.
The challenging process all leaders go through.
Getting a mentor as a way to skip difficult stages.
Why imposter syndrome is actually a good thing.
The importance of creating a long-term passive income through investments.
3 7-figure problems you want in your life.
---
And whenever you are ready to get our help building or scaling your coaching business, here are some resources you can use below:
Check out our FREE 7-step video training to build a profitable coaching business >HERE<
Join thousands of coaches in our FREE Facebook community >HERE<
If you are interested in our programs to help you build a profitable coaching business you can review them >HERE< and set up a free 15 clarity call with one of our coaches to help see if we might be able to help.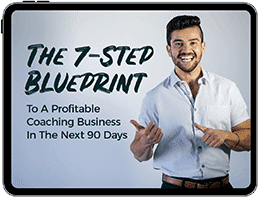 The 7-Step Blueprint to
a Profitable Coaching
Business in the Next
90 Days