We all have habits that were evolutionary designed by our brain for us to survive, such as conserving energy and being socially accepted, but nowadays, most of them have nothing to do with our modern lifestyle, so we have to continue evolving and let them go. That's why today I will tell you the 7 most harmful habits that keep us from succeeding in both business and life!
You will learn:
7 habits that we all have.
Why we have habits and how to get rid of the bad ones.
How to control your subconscious actions.
---
And whenever you are ready to get our help building or scaling your coaching business, here are some resources you can use below:
Check out our FREE 7-step video training to build a profitable coaching business >HERE<
Join thousands of coaches in our FREE Facebook community >HERE<
If you are interested in our programs to help you build a profitable coaching business you can review them >HERE< and set up a free 15 clarity call with one of our coaches to help see if we might be able to help.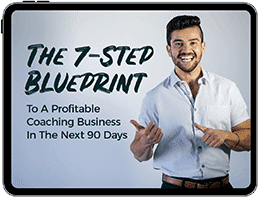 The 7-Step Blueprint to
a Profitable Coaching
Business in the Next
90 Days