One Cop's Journey To A $60M Business – w: PureLife Organics CEO, Todd Lamb
Have you ever wondered if literally anyone could become a good coach? I've heard this many times and, believe it or not, it's true! Actually, I'll be talking with Todd Lamb, a former police officer who turned into a business coach. He'll tell us about his journey to show us how he did it and the way you could do the same as him! No matter what you do or where you work, you CAN run your own coaching business by following his lead!
You will learn:
How Todd Lamb moved from being a police officer to becoming a coach.
The difference between saving lives as a cop and as a coach.
Why mentors are indeed underrated.
How to overcome discomfort by acknowledging the impact you can have.
---
And whenever you are ready to get our help building or scaling your coaching business, here are some resources you can use below:
Check out our FREE 7-step video training to build a profitable coaching business >HERE<
Join thousands of coaches in our FREE Facebook community >HERE<
If you are interested in our programs to help you build a profitable coaching business you can review them >HERE< and set up a free 15 clarity call with one of our coaches to help see if we might be able to help.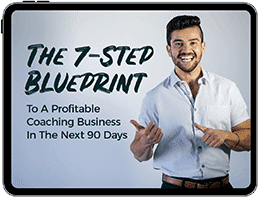 The 7-Step Blueprint to
a Profitable Coaching
Business in the Next
90 Days