Pros And Cons Of Certifications
How many degrees and certifications do you think you need to be called a business coach? Regular coaches spend so many years of their lives studying to get a degree when they need nothing to start their own business! So I'll explain the pros and cons of certifications and why they can actually be detrimental to building your business, as well as the reason to avoid the cycle of knowledge!
You will learn:
Why coaching certifications are actually detrimental to building a coaching business.
What coaching programs can't teach you.
How to avoid getting stuck in the cycle of knowledge.
Why certifications and degrees can turn you into a commodity.
Positioning yourself as THE EXPERT.
---
And whenever you are ready to get our help building or scaling your coaching business, here are some resources you can use below:
Check out our FREE 7-step video training to build a profitable coaching business >HERE<
Join thousands of coaches in our FREE Facebook community >HERE<
If you are interested in our programs to help you build a profitable coaching business you can review them >HERE< and set up a free 15 clarity call with one of our coaches to help see if we might be able to help.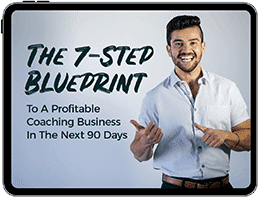 The 7-Step Blueprint to
a Profitable Coaching
Business in the Next
90 Days