The Math Equation That Made Me 7-Figures
What's the best way to guarantee success for your business? There are so many people out there telling you success is neither tangible nor accountable, but they couldn't be more wrong! Actually, I've developed a single equation that can measure how likely you are to hit your goals according to your own desires and the actions you take to achieve them! So find out as I explain how to guarantee your success and stop making excuses.
You will learn:
How to focus 100% on being a better coach.
The secret equation to apply on your business and life.
Taking accountability of your focus, faith and effort to achieve success.
Is the effort you're putting out on your business good enough?
Why being ""good enough"" isn't actually good enough.
---
And whenever you are ready to get our help building or scaling your coaching business, here are some resources you can use below:
Check out our FREE 7-step video training to build a profitable coaching business >HERE<
Join thousands of coaches in our FREE Facebook community >HERE<
If you are interested in our programs to help you build a profitable coaching business you can review them >HERE< and set up a free 15 clarity call with one of our coaches to help see if we might be able to help.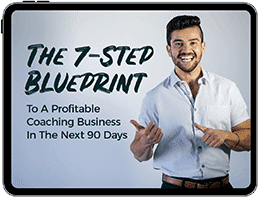 The 7-Step Blueprint to
a Profitable Coaching
Business in the Next
90 Days