Life Will Punch You In The Face (How Do You Get Back Up?)
What dictates the size of your business? There are so many entrepreneurs out there who think it's their intelligence or their ability to sell, but it's none of it. What actually certifies the size of your business is the amount of punches you can get before giving up! So don't miss out on my little secrets to get back up to withstand and overcome those slumps life will provide you with!
You will learn:
What to do when life punches you in the face.
How to overcome the ups and downs all coaches need to go through.
Finding something that can take you out of a slump.
Ways to increase your confidence and become a better coach.
Dictating the size of your business.
---
And whenever you are ready to get our help building or scaling your coaching business, here are some resources you can use below:
Check out our FREE 7-step video training to build a profitable coaching business >HERE<
Join thousands of coaches in our FREE Facebook community >HERE<
If you are interested in our programs to help you build a profitable coaching business you can review them >HERE< and set up a free 15 clarity call with one of our coaches to help see if we might be able to help.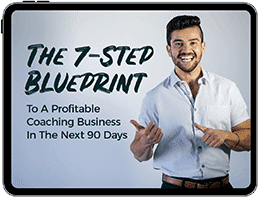 The 7-Step Blueprint to
a Profitable Coaching
Business in the Next
90 Days