How To Set GOALS (The Right Way)
Not many coaches are aware of this when planning, but there's a formula to set challenging but achievable goals that guarantee your growth. Here you'll learn the right way to set and actually hit your goals, year after year, through just 5 steps. Forget about those 10-goal lists and find out how many and what kind of goals you must set every single year and start taking action now.
You will learn:
How to be 50% more likely to achieve your goals.
Small goals vs. Big goals: which ones to set?
5 Steps to consistently hit your goals year after year.
The right way to set goals.
How many goals you must set every year.
Taking courageous actions.
Building a system to hold you accountable.
---
And whenever you are ready to get our help building or scaling your coaching business, here are some resources you can use below:
Check out our FREE 7-step video training to build a profitable coaching business >HERE<
Join thousands of coaches in our FREE Facebook community >HERE<
If you are interested in our programs to help you build a profitable coaching business you can review them >HERE< and set up a free 15 clarity call with one of our coaches to help see if we might be able to help.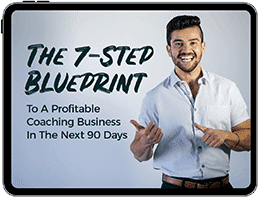 The 7-Step Blueprint to
a Profitable Coaching
Business in the Next
90 Days