3 Lessons From Nike's Founder Phil Knight
Did you know Nike was on the verge of bankruptcy for over TWO DECADES before succeeding? Its founder is an example of resilience and here you'll learn how he achieved to take it's business from that point to overcoming other premium brands such as Adidas and Puma. Pay attention and start reprogramming your mindset because these 3 lessons will definitely skyrocket your business!
You will learn:
Why Phil Knight spent two decades on the verge of bankruptcy when building Nike.
The fuel that led Nike to overcome Adidas and Puma.
Achieving the biggest motivation to grow your business.
Reprogramming every single belief you have built.
What to do with unhappy clients.
---
And whenever you are ready to get our help building or scaling your coaching business, here are some resources you can use below:
Check out our FREE 7-step video training to build a profitable coaching business >HERE<
Join thousands of coaches in our FREE Facebook community >HERE<
If you are interested in our programs to help you build a profitable coaching business you can review them >HERE< and set up a free 15 clarity call with one of our coaches to help see if we might be able to help.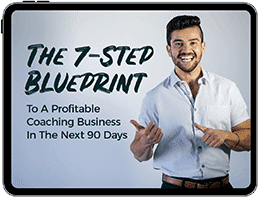 The 7-Step Blueprint to
a Profitable Coaching
Business in the Next
90 Days