3, 2, 1… LAUNCH! (Morning Routine)
What time do you always wake up? It's a vital question that can determine whether or not you will be successful at the end of the day. Average people wake up at about 8 am, so what have you already finished by that time? If your answer is ""nothing at all"", then you need a new routine, and that's what I can show you. Get used to doing this every single day and I guarantee you'll see a deep change for the better in your business!
You will learn:
How to manage to wake up early every single day.
The morning routine that can lead you to success.
Turning a difficult set of activities into a daily habit.
What we must have already done by the time average people wake up.
The importance of dropping key notes all over your work area.
---
And whenever you are ready to get our help building or scaling your coaching business, here are some resources you can use below:
Check out our FREE 7-step video training to build a profitable coaching business >HERE<
Join thousands of coaches in our FREE Facebook community >HERE<
If you are interested in our programs to help you build a profitable coaching business you can review them >HERE< and set up a free 15 clarity call with one of our coaches to help see if we might be able to help.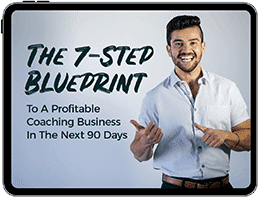 The 7-Step Blueprint to
a Profitable Coaching
Business in the Next
90 Days