A Lesson on Leadership from the Best Coach of All Time
Have you figured out your true potential as a coach? What's the highest amount of money you are able to earn and how can you achieve it?
In order to answer those questions, you need to know John Wooden, the best coach of all time in any sport! Find out what his mindset was like and how he was able to win 88 streak games.
The important lesson here is to stop focusing on your end goal and start enjoying the journey!
---
You will learn:
2 lessons on how to lead life from John Wooden, the best coach of all time
John Wooden and his 88 streak games wins and 7 National Championships.
Discovering your true potential to earn more money.
No longer focusing on your destination, but on your journey.
Why John Wooden never talked to his about winning or losing.
The question you need to ask yourself every day after waking up.
---
And whenever you are ready to get our help building or scaling your coaching business, here are some resources you can use below:
Check out our FREE 7-step video training to build a profitable coaching business.
Join thousands of coaches in our FREE Facebook community.
Review our Programs to help you build a profitable coaching business and set up a free 15 minutes clarity call with one of our coaches to help see if we might be able to help.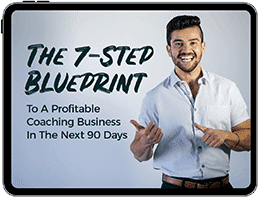 The 7-Step Blueprint to
a Profitable Coaching
Business in the Next
90 Days