How To Kick ASS In Your Business And In Your Relationship
How different is your relationship from your business?
Actually, nothing at all!
Growing your relationship is the same as growing your business, and that's why I'll be talking with Maddy, my wife, to teach you how similar relationships and businesses are. We will also discuss the best tips to keep both of them working.
Pay attention to the most important things we have applied to be together for so long!
---
You will learn:
Why business and relationships aren't different at all.
The importance of communication to keep your business and relationships growing.
Why you can't be less than 100% focused on your relationship.
The importance of consistent date nights and when it is the best time for them.
Coming to non-negotiable agreements in your relationship.
The 2 most valuable things that keep relationships working.
And whenever you are ready to get our help building or scaling your coaching business, here are some resources you can use below:
Check out our FREE 7-step video training to build a profitable coaching business.
Join thousands of coaches in our FREE Facebook community.
Review our Programs to help you build a profitable coaching business and set up a free 15 minutes clarity call with one of our coaches to help see if we might be able to help.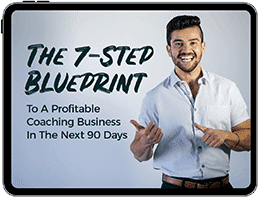 The 7-Step Blueprint to
a Profitable Coaching
Business in the Next
90 Days