Things You Don't Need To Start A Coaching Biz
Have you gotten a coaching certification or are you still on the process of getting it?
What if I told you it wasn't necessary at all?
There are only 3 things you actually need to get started as a successful coach, and today I am revealing the secret to hit your goal of being your own boss.
I am also debunking some myths about coaching and tell you things you don't need.
Don't miss out on this episode because starting a coaching business might be easier than you think! Find out if you can actually kick off your business now!
---
You will learn:
The 3 things you only need to get started in coaching.
When the best time is to think about creating a logo and a website.
Why you don't need a certification as a starting coach.
A blog or a podcast is unnecessary to attract clients.
It's a terrible idea to write a book when you've just started.
How to communicate people's problems better than they can.
---
And whenever you are ready to get our help building or scaling your coaching business, here are some resources you can use below:
Check out our FREE 7-step video training to build a profitable coaching business.
Join thousands of coaches in our FREE Facebook community.
Review our Programs to help you build a profitable coaching business and set up a free 15 minutes clarity call with one of our coaches to help see if we might be able to help.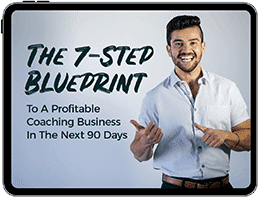 The 7-Step Blueprint to
a Profitable Coaching
Business in the Next
90 Days