Do You Deserve To Be An Entrepreneur?
Do you really have what it takes to become a successful entrepreneur? Or is your fate to stay as a 9-5 employee?
There's a huge difference between both mindsets and I will explain how they work.
Find out how an employee reacts to different situations and how an entrepreneur deals with the same issues, as well as why employees get stuck while entrepreneurs never stop advancing because of their mindsets!
---
You will learn:
5 mindset differences between entrepreneurs and employees.
The reason why employees seek security and perfection.
Why entrepreneurs seek failure instead of success.
How entrepreneurs overcome blocks.
How to start to view pressure as a privilege.
And whenever you are ready to get our help building or scaling your coaching business, here are some resources you can use below:
Check out our FREE 7-step video training to build a profitable coaching business >HERE<
Join thousands of coaches in our FREE Facebook community >HERE<
If you are interested in our programs to help you build a profitable coaching business you can review them >HERE< and set up a free 15 clarity call with one of our coaches to help see if we might be able to help.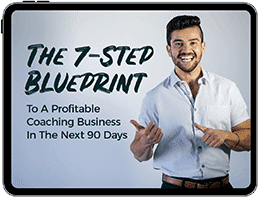 The 7-Step Blueprint to
a Profitable Coaching
Business in the Next
90 Days