How To Sell $1,000,000 A Year In Coaching Services
We all know selling is not an easy thing, but what if I told you there was a formula to improve your results?
Today, Cathal Walsh, a premium salesperson, will reveal everything about sales and how you can make $1,000,000 a year in coaching, just like he does.
Find out the most common mistakes all coaches make, and the best tips to avoid getting frustrated when selling on the phone.
You will learn:
Selling is not a bad thing.
The power of the internet to make things happen.
How to sell on the phone.
Common mistakes coaches always make.
What kind of people will be more committed.
---
And whenever you are ready to get our help building or scaling your coaching business, here are some resources you can use below:
Check out our FREE 7-step video training to build a profitable coaching business.
Join thousands of coaches in our FREE Facebook community.
Review our Programs to help you build a profitable coaching business and set up a free 15 minutes clarity call with one of our coaches to help see if we might be able to help.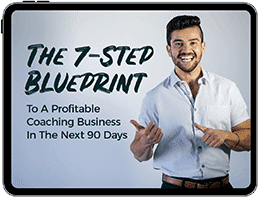 The 7-Step Blueprint to
a Profitable Coaching
Business in the Next
90 Days