How To Niche Down… The RIGHT Way.
You've created a lot of premium content but you've got no clients at all, haven't you? I've figured out the 4 reasons why this is so common to happen, and I will tell you everything you need to know about these mistakes.
Find out as I explain the right way to attract the right audience so that you won't waste more time on content that catches the wrong people.
Start looking for the right audience according to your business and talk to them directly through your clear content.
——–
You will learn:
Why your best content isn't attracting clients consistently.
What kind of content your audience REALLY needs.
4 common mistakes you might be making when creating your niche.
Detecting where your messaging is broken.
The reason your audience should actually be small.
And whenever you are ready to get our help building or scaling your coaching business, here are some resources you can use below:
Check out our FREE 7-step video training to build a profitable coaching business.
Join thousands of coaches in our FREE Facebook community.
Review our Programs to help you build a profitable coaching business and set up a free 15 minutes clarity call with one of our coaches to help see if we might be able to help.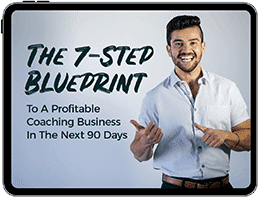 The 7-Step Blueprint to
a Profitable Coaching
Business in the Next
90 Days