This Hinders You From Charging Premium Prices! | Zander Fryer
How can you charge premium prices as a coach?
Zander Fryer explains the ultimate technique to make it possible, even though you have just got started.
Find out how important it is to believe in yourself and what your results can be if you apply this mindset at least for a few days.
He will let you know how to get rid of those doubts that hold you back in order to start taking action and moving forward.
Get out of your comfort zone and be aware of how many people truly need you!
——–
You will learn:
● What holds you back from charging premium prices as a coach.
● Believing in yourself to increase your profit.
● Stop being your own biggest critic.
● The mindset to build your dreams and make them come true.
● Becoming your own biggest coach.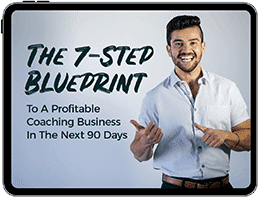 The 7-Step Blueprint to
a Profitable Coaching
Business in the Next
90 Days