Become the God of Coaches
Did you know Zeus didn't get started as a perfect, wise, and powerful god?
He was actually weak and made bad decisions! But through his journey, he got a lot of experience that turned him into the god of all gods.
As business coaches, we are all like Zeus! Find out as I explain the 3 things that make us similar to Zeus and why perfection is the worst thing when it comes to business coaching.
——–
You will learn:
● 3 things you can learn from Zeus.
● You're not so different from Zeus.
● Why perfect coaches are broke coaches.
● Your imperfections boost your business.
● What it really takes to see your mission come true.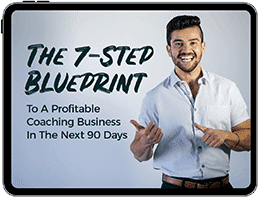 The 7-Step Blueprint to
a Profitable Coaching
Business in the Next
90 Days