Overcoming the Fear of Starting a Business | w/ Dr. Mike Murray
Are you having second thoughts about setting up your own business?
Zander Fryer interviews Dr. Mike Murray, who has gone through the same situation and is willing to explain what kind of mindset you need to acquire, as well as what actions you can take to overcome your fears and get your business off the ground once and for all.
Through his experience, he debunks some of the biggest misconceptions that entrepreneurs usually have, which may prevent you from moving on and getting success.
——–
● You will learn:
● The best formula to set up your own business.
● Why you can never charge low prices.
● Your clients don't want you to tell them the truth.
● What kind of clients you can get if you set premium prices.
● Your best investment when you have just get started.
● How and when to put yourself out.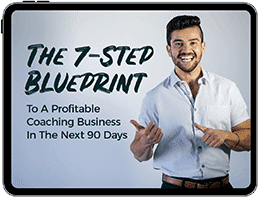 The 7-Step Blueprint to
a Profitable Coaching
Business in the Next
90 Days