Gratitude w/ Joshua Church
Join us today, as our amazing Director of Operations at HIC, Joshua Church, explains everything you need to know about gratitude and what he learned from his experience during the training for his first Iron Man Competition. Find out as he spills the beans on the difficult journey he went through and how he was able to get over it.
You will learn:
Why gratitude is his favorite teacher.
What he learned from his training for his first Iron Man race.
The importance of doing inner work.
What he's been so grateful for.
---
And whenever you are ready to get our help building or scaling your coaching business, here are some resources you can use below:
Check out our FREE 7-step video training to build a profitable coaching business >HERE<
Join thousands of coaches in our FREE Facebook community >HERE<
If you are interested in our programs to help you build a profitable coaching business you can review them >HERE< and set up a free 15 clarity call with one of our coaches to help see if we might be able to help.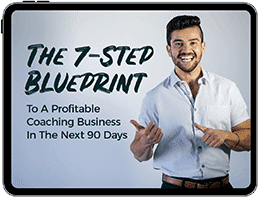 The 7-Step Blueprint to
a Profitable Coaching
Business in the Next
90 Days